Anahata Academy of Counselling & Psychotherapy (AACP)
Anahata Academy is an extension of Anahata Mental Health Clinic (AHMC) functioning out of the City of Ahmedabad, Gujarat. The academy is founded for the purpose of sharing and training the aspirants of psychology and related fields with a focus on professional skills. The academy operates as an independent and autonomous body and does not offer any course in affiliation with any other institution or organization. However, the academy is open for collaborations, if aligned with its vision.
The programs offered by AACP are not just limited to the students and practitioners of psychology but also cater to the personnel in various NGOS, schools, Corporate groups (HR) etc. Individuals who are keen on deepening their understanding of human personality and behaviour will find the AACP offerings extremely beneficial for their personal and professional growth.
Vision-
Bridging the gap between Clinical Psychotherapeutic Theory and Practice by offering skills training to the practicing as well as aspiring psychologists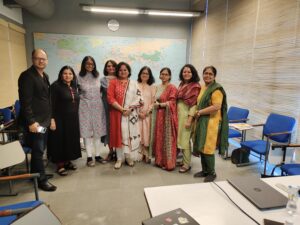 The academy is going to offer skill focused short term programs for the budding professionals in the field of psychology. There has been observation well-documented that point towards a lack of skills and analytical approach in the aspiring psychologists. The courses offered by AACP are designed to fill this gap and enhance the quality of psychological intervention.
Some of the courses that AACP offers are-
Certificate program in School Counselling
Certificate Program in Case Writing/ Vignette Writing
Short- term course in Diagnostics and Prognosis
Short- term Training Program in Counselling Skills
Clinical Supervision for practicing Psychologists and Psychotherapists
Personal Analysis for practicing Psychologists and Psychotherapists
Understanding Transference and counter-transference in Therapy